TOU – Tool For Business
TOU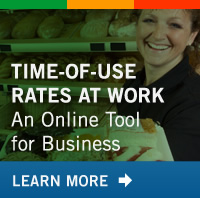 "Time-of-Use Rates at Work" shows how the cost of running equipment changes at different times of the day or week. By better understanding how TOU rates will work within your business, you can then take steps to better manage your costs.
Using information you input about your business, this tool will build a consumption profile to illustrate how you use electricity. It will also give you an idea of what your costs using TOU rates might be as well as the possible savings from taking conservation measures.
This tool is for information purposes only.