Powerline incidents can happen in an instant and can be deadly.
Find out how to protect yourself around powerlines and what to do in case of an emergency.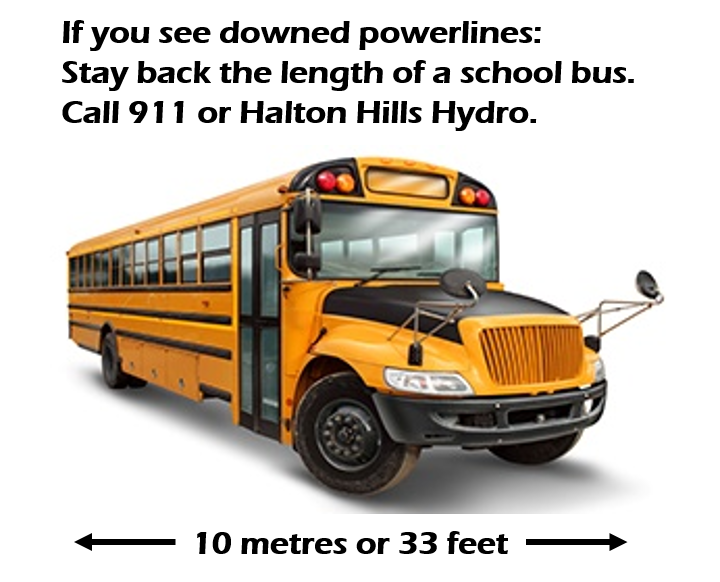 If you see a downed powerline, stay back at least 10 meters and call 911. Electricity can travel through the ground so it is best to always assume a line is still energized.
Do not attempt to drive over downed powerlines.
If a powerline has come down on your car, remain in the car, call 911 and wait for help to arrive.
Wait until the lines have been fixed before starting yard clean up. Do not attempt to clear tree limbs that are leaning on or caught in powerlines. Report them to us to safely remove.
If the damaged trees or powerlines are on your private property, you may need to call a Licensed Electrical Contractor or a Utility Arborist to clean up the damage. Check out the Demarcation Point information on this page for more information on customer owned equipment.
If you need a Licensed Electrical Contractor, you can find one using the Electrical Safety Authority's online map.
Stay in your vehicle

Do not attempt to remove the downed wire from your vehicle.
Call 911 and Halton Hills Hydro.
Wait until the local utility worker tells you it's safe to exit your vehicle.
Keep back (that includes everyone around you) at least 10 metres (about the length of a school bus).

Exit Only in an Emergency.

In case of an emergency where you must exit (for example, a fire), exit the vehicle as follows:

Remove any loose-fitting clothing. No part of your body or clothing should touch the vehicle and the ground at the same time.
Open the door and prepare to jump. Tuck your elbows into your stomach and keep your hands clasped close to your chest.
Make sure you land with your feet together, and you're not touching the vehicle at the same time.

Use shuffle technique to move away

Ensure your feet do not lift off the ground and are always touching each other. The inside of your heel should still be touching the toe of the other foot when you start to move the other leg forward.
Move away at least 10 metres from the vehicle.
Let Lucky the Squirrel teach you the dangers of overhead and underground powerlines with these short videos.
How Dangerous is it to Touch an Overhead Powerline?
The Importance of Calling for Locates
How Close can you come to Overhead Powerlines?
How Dangerous is Electrical Equipment on the Ground?
How Close can you Come to Downed Powerlines?
What do you do if a Powerline is on Your Car?
See the results of our 2022 Safety Survey.
Every two years we conduct a public safety awareness survey to gauge the level of powerline safety awareness in our community.