Tips for staying safe when severe weather occurs.
If you have a portable standby generator, please remember these important safety tips:
Never use a generator indoors – make sure it is in a dry area outdoors away from open doors, windows or vents.
Never connect portable generators to electrical appliances or wiring that has been affected by flood water.
If you are using extension cords, make sure they are three prong, grounded cords rated for the load you are planning to connect.
Coiled cords can get extremely hot – always uncoil cords and lay them flat.
Never use a BBQ indoors for heating or cooking
You can find more information about safely using portable generators by visiting the ESA's website.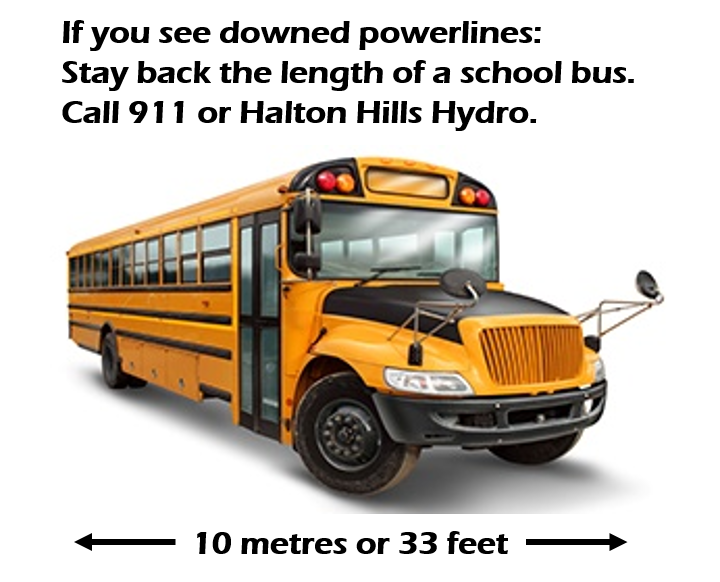 If you see a downed powerline, stay back at least 10 meters and call 911. Electricity can travel through the ground so it is best to always assume a line is still energized.
Do not attempt to drive over downed powerlines.
If a powerline has come down on your car, remain in the car, call 911 and wait for help to arrive.
Wait until the lines have been fixed before starting yard clean up. Do not attempt to clear tree limbs that are leaning on or caught in powerlines. Report them to us to safely remove.
If the damaged trees or powerlines are on your private property, you may need to call a Licensed Electrical Contractor or a Utility Arborist to clean up the damage. Check out the Demarcation Point information on this page for more information on customer owned equipment.
If you need a Licensed Electrical Contractor, you can find one using the Electrical Safety Authority's online map.
If flooding has occurred, be careful. Electricity can move through water or wet flooring and cause severe electrical shock.
Do not enter your basement if the water is above the level of electrical outlets, baseboard heaters or furnace, or is near your electrical panel;
Call Halton Hills Hydro immediately if the water has risen above outlets, baseboard heaters or your furnace, covers power cords, or is near the electrical panel. Arrange for them to disconnect power to your home; and
Watch out for downed powerlines in flood-affected areas. If you see one, stay back the length of a school bus (10 metres). Call 9-1-1 and your local electric utility to report it.
During a power outage, it is important to keep your refrigerator and freezer closed. Only open them if absolutely necessary. Do not be tempted to open the door just to check on the condition of food.
Remember, every time you open your refrigerator door, 1/3 to 1/2 the cold air is replaced by warm air from the room.
A full freezer will keep food frozen for about 48 hours, as long as you don't open the door.
For more information on food safety, visit the Government of Canada website.