Halton Hills Hydro Launches Report a Power Outage Feature on Website and Facebook
March 24, 2014
Halton Hills Hydro is pleased to launch a new feature on our website and Facebook page to enhance customer service. We understand that when there's a power outage, getting through on the phone lines can sometimes take a while. Now you can quickly and easily report an outage online, even from your mobile device.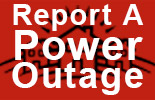 Simply visit our Emergencies & Outages page at haltonhillshydro.com and click 'Report a Power Outage' or use the Report a Power Outage tab on our Facebook page. Your outage is instantly reported directly to our control room. We don't reply directly to each report, however, our control room uses this information to help identify issues and restore power. Remember, we post outage information on our Website, Facebook, and Twitter. You can check any of those sites for updates on current power outages.
This feature is one more way Halton Hills Hydro provides Electricity Distribution Excellence in a safe and reliable manner to the community of Halton Hills.
Ways to Connect with us:
Phone: 519-853-3701
Website: www.haltonhillshydro.com
Facebook: www.facebook.com/haltonhillshydro
Twitter: www.twitter.com @hhhydro