Powerline Safety Week May 12-18, 2014
May 13, 2014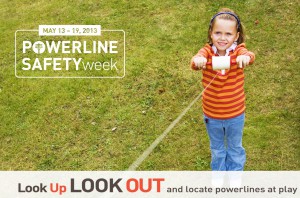 May 13, 2014
Did you know? Over the past decade, powerline contact has accounted for nearly half of all electrical-related fatalities in Ontario. It is sad to note that all 28 deaths from powerline contact incidents could have been prevented.
In an effort to avoid future powerline tragedies, the Community Powerline Safety Alliance, an alliance bringing together like-minded organizations to establish a collaborative approach to improving powerline safety within local communities, is launching its first annual Powerline Safety Week in Ontario this year from May 12-18, 2014. Halton Hills Hydro is pleased to support this important initiative. The Community Powerline Safety Alliance urges all Ontarians to remember three life-saving Ls """look up, look out and locate" "" when it comes to powerlines near their homes, in their communities, or where they work.
Here are some of the ways you can stay safe:
Powerline Safety at Play: It is important to look up, look out and locate powerlines, utility poles and pad mount transformers. Never climb trees or fly kites near powerlines and avoid playing near utility poles and transformer padmounts.

Powerline Safety at Home: Always be aware of overhead powerlines when using ladders, trimming trees and flying kites.

Powerline Safety at Work: When operating dump trucks, construction machinery or using ladders at work, it is especially important to be aware of overhead powerlines in close proximity to where you are working.

To learn more, visit: http://www.powerlinesafety.ca